Safety is a priority for us!
The company DAKO-CZ, a.s. is a leading manufacturer of pneumatic, electromechanical and hydraulic brake systems for rail vehicles with more than a 207-year tradition. With a planned annual turnover of around 92 million euro, 74% of which is based on foreign orders, the company is based in Třemošnice in East Bohemia. DAKO-CZ, a.s. is member of CSG Rail. The owner of the company is the CZECHOSLOVAK  GROUP, a.s. 
Manufacturer and supplier of brake systems and components
DAKO-CZ supplies brake systems and components for freight and passenger vehicles, suburban units, locomotives, maintenance cars, metro cars and trams. Rolling stock with DAKO brakes can be seen not only in Europe, but also in China, India, Malaysia, Indonesia, and Algeria, where the company collaborates with global rolling stock manufacturers and rail transport operators. In 2021, a new production company was opened, DAKO-CZ Machinery, in Ostrava, and this year established two joint ventures in India, where it has been growing rapidly for several years in a row. These are the companies MEDHA DAKO-CZ Pvt. Ltd. and JWL DAKO-CZ (INDIA) Ltd.
The company has its own development, a modern testing laboratory and a design and construction centre.
member of UNIFE and ACRI association
number of employees: 600
year of foundation: 1816
Our vision and mission
To be a globally successful and long-term manufacturer of brake systems and components for rail vehicles, offering the latest technology, top quality and flexibility in response to customer needs in the sector.
The mission of the company DAKO-CZ
To operate on the global market with braking systems for rail vehicles on a long-term basis and, at the same time, to preserve the ability to enter other markets with high value-added engineering products. We consider our own research and development, high-technology investments to be necessary to remain competitive, as well as the employment of top engineers and skilled workers to whom we provide job safety with a stable and fair employer, and also maintaining and developing relationships with our customers, including world manufacturers of rail vehicles for railways and rail systems for public transport (trams and metro cars). Also as a global company, we respect and build relationships with the region where we are based and its local government. We always act to make our business sustainable.
DAKO-CZ, the right choice
one of the world's leading manufacturers of brake systems and components for rail vehicles;
more than 207 years of experience;
member of the group CZECHOSLOVAK GROUP;
a reliable supplier for global rail vehicle manufacturers and rail operators;
high production capacity;
expert and professional staff;
individual technical solutions (tailor-made for the client);
financial stability.
CZECHOSLOVAK GROUP a.s.
CZECHOSLOVAK GROUP (CSG) is a holding company building on the tradition of the Czechoslovak industry. It supports the development of traditional Czech, Slovak, and foreign companies, which are engaged in defense and civil industrial production and trade. Over 10,000 employees work in the companies incorporated into the CSG holding. In 2022, companies in the CSG holding generated revenues worth 25 billion CZK.



CSG specializes in the engineering, automotive, rail, aviation and defence industries. The CSG group has a strong focus on export markets, and its constantly growing customer base extends across all continents.

The group's production portfolio is wide and varied, ranging from wristwatches to railway brakes, trucks, radar systems and navigation systems for civilian production and the defence industry.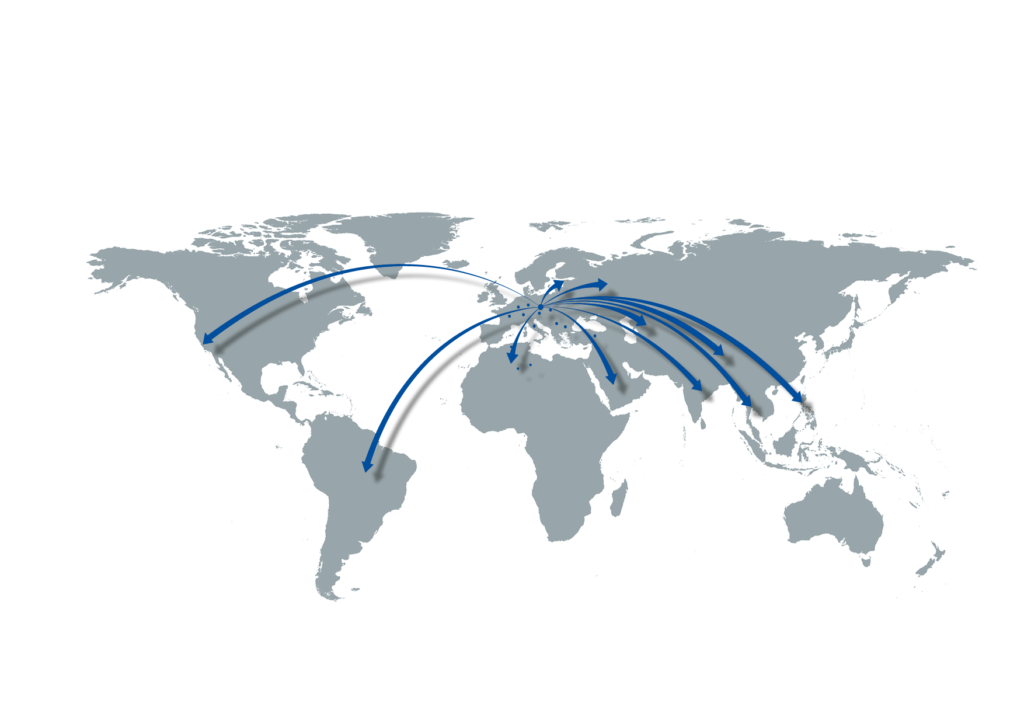 Follow us on social networks